Four-String Genius: Are These The Best Bassists In Rock?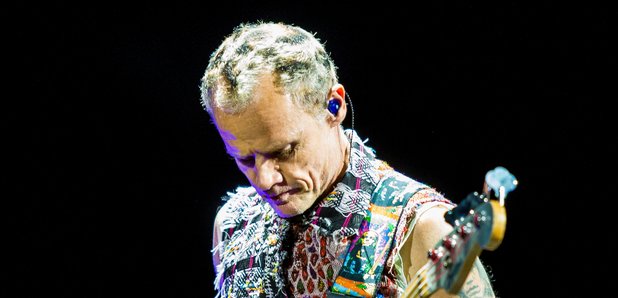 They're often overlooked in favour of the frontman or the flashy guitarist, but NOW… it's time to celebrate our favourite four-string playing legends.
Flea
No list of bassists would be complete without Flea, who often tops lists as the greatest bassist ever. Originally born in Australia, Flea's real name is Michael Peter Balzary, which doesn't quite have the same ring. As well as being one of the Chillis' founding members, he's also performed with artists like Jane's Addiction, Johnny Cash, Alanis Morissette, and Thom Yorke's supergroup Atoms For Peace.
https://youtu.be/Z0AXjUy1_gY
Mani
The Stones Roses bassist played a vital role in the Madchester explosion at the turn of the 90s with his iconic style, which fused fast rock playing with a dance rhythm. When the Roses disbanded in 1996, Mani went on to join Primal Scream until 2012. Of all the ex-Roses (who got back together in 2012 for a series of huge reunion shows), Mani was always the most active and vocal – he even briefly formed a supergroup of bassists called Freebass, where he was joined by Smiths bassist Andy Rourke and New Order's Peter Hook.
https://youtu.be/2lmEBa4I0so
Peter Hook
Peter Hook has had a fractious relationship with New Order over the years, and the two factions have been engaging in legal wrangling over the use of the name. Before that he, of course, was part of Joy Division, playing alongside Ian Curtis and Bernard Sumner until Curtis's tragic suicide in 1980. It was with Joy Division where he developed his famous high-note style, claiming that the amp he learnt on was so bad that he could only play high notes in order to hear himself!
https://youtu.be/KhIstqstFNg
Kim Deal
Although vocalist and guitarist for The Breeders, it was her bass work with the Pixies that made Kim Deal an icon. She was famous for her minimal bass playing, claiming that a lot of bassists don't know how to "pedal through something." Although penning one of Pixies' most popular tracks, Gigantic, tensions between Deal and Black Francis grew and grew until the band split in 1992. She joined them for their reunion in 2004, but left again in 2013. She's now been permanently replaced by Paz Lenchantin.
https://youtu.be/xJncHEZ3URs
Carlos D
Interpol would not be the band they are if it wasn't for Carlos D's unforgettable bass style. Taking inspiration from Peter Hook, Carlos D was one of the key ingredients of the band. Leaving the band in 2010, Carlos famously hated playing bass guitar, apparently stating that it was not his instrument of choice. Imagine what he could of done with one of his favourites, then?
https://youtu.be/o8sZKbsKECk
Paul McCartney
We obviously couldn't forget about the most famous bassist of all time. Macca not only highlighted the bass guitar as a lead instrument, but also came up with hooks and lines that will be apart of music forever. McCartney himself is particularly proud of his playing of Sgt. Pepper's Lonely Hearts Club band and, unbelievably, he's completely self-taught.
https://youtu.be/xFsuwuoMAvU
Chris Wolstenholme
Famously penning the term "rock neck", which apparently you get from too much head banging, Wolstenholme brought a furious rock edge to Bellamy's intrinsic guitar playing. His style is heavy and performed with an expert's eye.
https://youtu.be/HlL8XzcHt0Y
John Paul Jones
Inspiring everyone from Gene Simmons to Flea, John Paul Jones is the ultimate underrated bassist. His own influences lie in soul and Motown, largely James Brown, which brought Led Zeppelin their groove. Without JPJ, Zeppelin would have lacked that swing which gave tracks like Black Dog, Ramble On, Trampled Underfoot and Kashmir their timeless sound.
https://youtu.be/zB_DOA2AL7Q
Taka Hirose
Hirose grew up in Japan, where he lived in Tokyo working for the guitar manufacturing specialists ESP. During his teens and early twenties, Taka largely played bass in jazz or metal bands. But when he moved to London in 1992, he answered an add in a Loot magazine asking for a bassist, and Feeder was born. Now one of the most recognisable bassists around, he was originally reluctant to take on the band full time, although we're sure he's glad he did now.
https://youtu.be/noy4TP1-7hs